An expansive space, the alternative protein industry includes foods, drinks and ingredients made with non-animal sources of protein. The entire alt protein industry has experienced explosive growth in the past decade, but has struggled recently to maintain momentum. Among other topics, our Q3 2022 Emerging Tech Research Analyst Note delves into the alt-protein VC ecosystem, comprised of plant-based proteins, fermented proteins and cultivated proteins. How are they different? We define all three terms below.
Unless otherwise noted, data points included in this post represent live counts from the PitchBook Platform as of October 3, 2022. PitchBook's data on companies, investors and deals is subject to frequent change. Where possible, we've linked to PitchBook profile previews, which provide a cursory sense of the types of robust data PitchBook clients have access to. 
BLOG
What is foodtech, and do VC investors have a hankering for it?
Learn more about who's investing in foodtech, the current state of foodtech and VC deal activity over time.
What are plant based proteins?
Definition of plant-based protein
Vegetarian food products that mimic meat or dairy in taste, texture and appearance.
Plant-based protein startup examples
Impossible Foods is a Redwood City, California producer of plant-based meat substitutes created using fats, amino acids and vitamins from plants. Impossible's last deal, a secondary transaction, was worth $12 million, and the company's post valuation is currently $7 billion per PitchBook Platform data.
Another plant-based protein startup is Austin's MALK, which produces dairy milk alternatives made from almonds, pecans and cashews. Founded in 2014, MALK most recently raised $7.9 million of later-stage VC funding.
Headquartered in Leeds, England, Meatless Farm aims to make swapping meat for meatless easy. The startup's product line includes mince, burger patties and sausages made from plant-based ingredients. Most recently, Meatless Farms raised $4.89 million via equity crowdfunding via Crowdcube in August 2021.
What are fermented proteins?
Definition of fermented protein
Animal-free ingredients and consumer packaged goods (CPG) that are manufactured through fermentation. Fermented proteins (including fungi-based foods created with mycelia) can come in the form of standalone CPGs or be used to improve the characteristics of plant-based and cultivated protein products. Fermentation technology has emerged as an innovation tool, lending key sensory characteristics—like meaty taste and texture, in addition to better digestibility and nutrition.
Fermented protein startup examples
Boulder, Colorado's Meati produces fungi-based steaks that are minimally processed and made from natural ingredients. In July 2022, the company raised $150 million of Series C VC funding, and as of October 3, 2022, it's post valuation is at $660 million.
Headquartered in Berkeley, California, Perfect Day produces animal-free milk substitutes through a yeast fermentation process using plant-based sugars and other sustainable, vegan ingredients. In 2021, the startup raised 0 million of Series D1 venture funding—putting its pre-money valuation at .24 billion.
New York-based Helaina produces human-milk proteins designed to provide immunity benefits similar to breast milk. Using a proprietary fermentation process, the startup is working to commercialize nature-identical milk. Most recently, Helaina raised a $20 million Series A funding round from Spark Capital, Siam Capital and others in November 2021. We recently chatted with Helaina's Founder, Laura Katz, about femtech's evolution and the challenges she navigates as an entrepreneur in that space.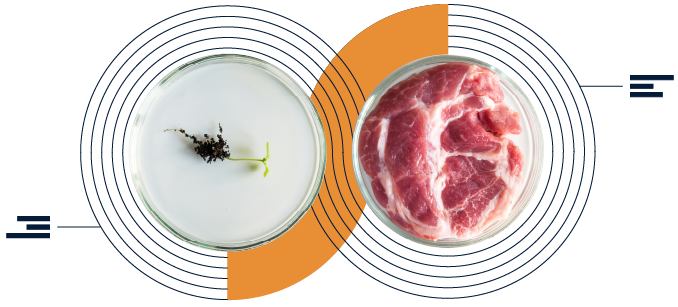 What are cultivated proteins?
Definition of cultivated protein
Cultivated protein refers to meat, seafood, dairy and egg products manufactured by growing live animal cells in labs instead of through traditional methods of slaughtering, harvesting or fishing. Cultivated protein is also often referred to as clean meat or lab-grown meat.
​Cultivated protein startup examples
UPSIDE Foods is a Berkeley, California startup that uses cutting-edge technology to produce real meat by farming animal cells—the "building blocks of meat"—instead of animals themselves. In April 2022, UPSIDE Foods raised $387 million of Series C venture funding from Abu Dhabi Growth Fund, Temasek Holdings and others. As of October 3, 2022, the company's post valuation is $1.31 billion.
San Francisco's Wildtype leverages cellular agriculture technologies to create clean fish and meant—particularly sushi-grade salmon. The company, which raised $100 million of Series B1 venture funding in January 2022, says its cell-cultivated seafood provides the same nutritional benefits as the most pristine wild fish without mercury, microplastics, antibiotics or other contaminants.
Headquartered in Maastricht, Netherlands, Mosa Meat produces cultured meat by painlessly harvesting muscle cells from a living cow without affecting its health or depleting its tissues, allowing food researchers to find an alternative to meat production and making livestock methods more sustainable. The startup raised an undisclosed amount of angel funding from Leonardo DiCaprio in September 2021.
Alt-protein VC exit activity
PitchBook Senior Analyst Alex Frederick says that exit activity in the alt-protein space has accelerated over the past ten years. PitchBook's Emerging Tech team observed exits dry up in Q1 2022, which was unsurprising given market volatility during that time.